How are we supporting Newark in this crisis?
Though efforts are still in their early stages, MEND has already mobilized to collect and distribute over 7,500 bottles of water through our existing network of food pantries in Newark—and we're just getting started.
Using our mobile food pantry, a converted school bus called The Green Bean, MEND is setting up collection sites throughout our community to accept water donations and deliver them where they can have the greatest impact. We're also supporting our pantries to make it as easy and efficient as possible for people to receive the water they need.
In addition, MEND is collecting donations, which we are using to purchase more bottled water for communities that need it.
In the coming days, MEND will continue organizing a coordinated response to the water crisis that includes ongoing water collection and distribution, partnering with water providers, donor outreach, advocacy, broad volunteer efforts, and a social media campaign—all in service of raising awareness, addressing this critical need, and promoting meaningful and constructive change for our neighbors in Newark.
MEND is also committed to supporting its pantry managers and volunteers, and working with Newark leadership, to address this serious public health crisis. For more information, contact Executive Director Robin Peacock (Robin@mendnj.org or 862.250.5216).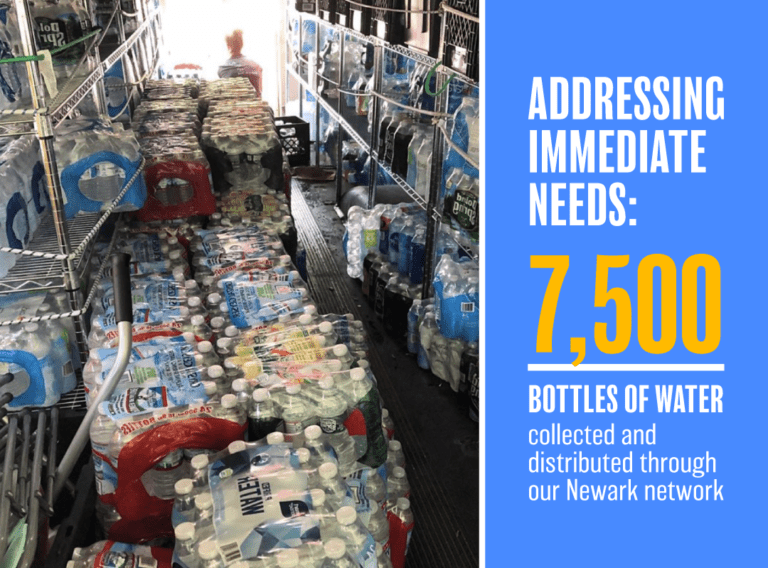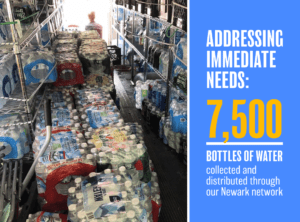 Resources for Newark Residents
Residents who have lead service lines and live in the Pequannock service area are advised to use bottled water for cooking, drinking and preparing baby formula, according to a statement by the City of Newark. Residents should not boil water to remove lead, according to city officials.
---
August 19, 2019
Earlier this month, following recent tests that showed elevated levels of lead in drinking water, the EPA recommended that local officials in Newark distribute bottled water to residents.
Residents in 15,000 Newark homes begin receiving bottled water for drinking and cooking.
MEND is taking a leadership role in the community by collecting and distributing water and donations to Newark residents—and by activating its volunteer network to assist in the crisis.